January 24, 2005
Celebrity Sighting of the Day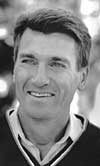 After all that slander on Friday, let's get back to the real news. A tip from a reader via:
slanderousminneapolis@gmail.com
Mayor R.T. Rybak had lunch [Thursday] today at My Burger, located in the 6 Quebec building. He had a My Burger Box with cheese and enjoyed a copy of the latest City Pages. He turned straight to Savage Love, kidding but I think it's a nice touch.
Somehow, the truth just isn't as exciting as slander. Oh well... We're doing our best.